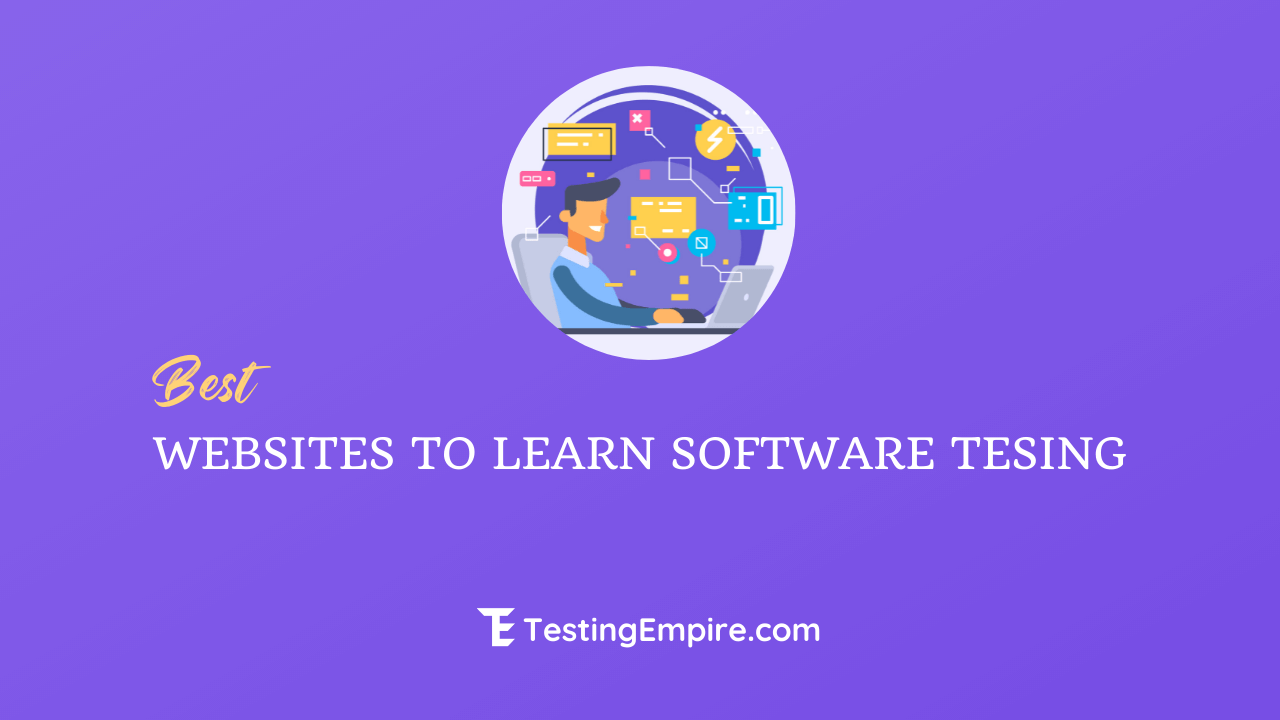 In the day and age of software development, software testing for checking its supreme quality and standards is essential. It allows you to verify that the software meets all criteria.
Software testers are responsible for software testing. They have the final authority to verify the quality of the software before it is released on the market. Software testing can be difficult for beginners. Sometimes you will have to fix bugs and erratic issues. It can be challenging to solve all of the problems by yourself. This is why you need to rely on certain websites for help. These sites will guide you through software testing and answer any questions you may have. This article will help you find helpful tutorials online, in addition to reading books about software testing.
Luckily, there are a lot of websites for software testers. We have suggested 12 go-to websites for software testers, which we think will be useful to learn software testing.
List of Go-To Websites For Software Testers
Top Go-To Websites for Software Testers
#1. Software Testing Material
Software Testing Material was started as a passion project by Rajkumar, a professional software test engineer, blogger, and YouTuber by choice. It is a free software testing resource site for Software Testers. This blog is a great help for software testers, and readers searching for quality information to improve their career, clear interviews, or start a career in Software Testing.
This website offers a diverse range of courses, tutorials, interview questions, resume formats to help beginner testers get started with their professional careers. Software Testing Material provides:
Cutting-edge helpful articles.
Best practices.
Other information related to software testing which is easy to understand by testing professionals and non-technical people who want to choose a career in Software Testing.
This blog helps especially the novice testers in the industry searching for good software testing material that will help them to crack the interviews.
#2. Ministry of Testing
Rosie Sherry is the founder of the Ministry of Testing. It was started in 2007 as The Software Testing Club. Software testers can benefit from an online resources platform dedicated to software testing. It is the community of tens of thousands of testers and growing every day!
The platform promotes the message of 'co-creating intelligent testers' and focuses on sharing updates, events, and valuable insights for the entire testing community. It also provides news and jobs related to software testing. There is also a directory that showcases testing tools, test service providers, and test management tools.
#3. TechWell
TechWell Corporation (formerly Software Quality Engineering, SQE) was founded by Bill Hetzel and David Gelperin in 1986 as a consulting company to help companies improve their software testing practices and create higher quality software. It is a trusted resource of many of the Fortune 1000. This website provides information, training, and expertise through various means to assist testers in building innovative software.
TechWell is an excellent online platform that offers hands-on software testing experience and other resources. This website allows testers, developers, and managers to explore conferences, training, and consulting, as well as insight into the software testing world. It helps them develop, test, deliver better software solutions, and improve their QA processes.
#4. Selenium Easy
Selenium Easy is open to viewers by a small group of professionals working in different organizations and who are subject expertise.
It provides a space for people to learn and implement Selenium in practice. This website offers example programs that give you a clear picture to meet your requirements. You may need to do a small workaround to satisfy your current requirement with the example code they provide.
Selenium Easy provides an excellent tutorial on Selenium test automation for beginners and advanced users. Test automation professionals who want to learn more about Selenium Web Driver and TestNG can bookmark this site and access practical examples and programs. It offers 100+ Selenium tutorials and helps testers build an automation framework with Selenium in your project.
#5. uTest
uTest is a leading online software testing site. It has 200,000+ members from over 144 countries. It offers free courses. This website will help you improve your skills dependent on useful assets that will boost and prop for your pursuit of software testing tasks.
It also supervises your testing ventures. The community is always willing to help. Through the project platform, you can also improve your testing skills. Everyone should give it a shot and learn new things about software testing.
#6. Dzone
DZone is an online hub for technical information related to software testing, QA, and other areas. This website serves as a bridge between you and industry-oriented professionals.
More than one million members are active on Dzone. They share the latest knowledge in software testing, DevOps and test management.
They gather high-quality articles from all over the internet and then distribute them to their 1,000,000+ members. Software testers around the globe visit the DZone platform to get the latest information on software testing. This will help them to improve their skills and their careers.
#7. Guru99
Guru99 is the best online learning platform for software testers. It will help you improve your skills. This website is a great place to start learning software testing skills. You can also learn tools and concepts at a granular level through this online resource. Their training has been provided to over 100 million people.
This site has a huge collection of instructional videos and information about performance testing, mobile, and security testing, testing management, and many other subjects. These tutorials are intended for beginners with no or little knowledge of software testing. This site should be saved immediately to improve your skills and learn all new things.
#8. Software Testing Help
This is also a great software testing blog that provides a complete package for software testing. Vijay, a B.E. engineer, created this site. This blog focuses on topics related to software testing and quality control.
The website has more than 1,000,000 monthly visits. It covers all topics related to software testing techniques, which will prove valuable for both novice and experienced testers. This site provides support to a wide range of testing professionals looking for updates on software testing methodologies. Tutorials, manual testing, and automation testing are all available.
#9. Software Testing Mentor
It was founded by Manish Verma. Software Testing Mentor is another comprehensive website that contains articles, tutorials, and how-to's for software testers. You will find videos, training and learning guides on ISTQB and Jira as well as information about certifications and courses.
#10. Sticky Minds
Sticky Minds works in collaboration with Techwell. This website is software testing-oriented. The user community will help you keep up-to-date on testing trends, training, conferences, and other information. The Q&A section will help you find the answer to your questions about testing projects.
It is for software testers and QA professionals. It also contains detailed articles and how-to information. This site covers test management, test automation, and test design techniques. It also includes test process development, agile test, tools, and test process development. These articles are covered by Q&A, interviews, articles, and presentations, which are updated every week.
#11. Testing Empire
It's a website maintained by professional software testers who are passionate about sharing their real-world expertise with other testers. This Software Testing Website is jam-packed with valuable material for anybody interested in becoming a software tester or specialist.
Software professionals can join for free. Register now to become a member of Testing Empire and get acquainted with the latest happenings in the testing industry.
Conclusion
There are many websites out there for software testers, but these are our top 11. They provide the most current and relevant information about software testing. This includes manual testing and automated testing as well as the best software automation tools.