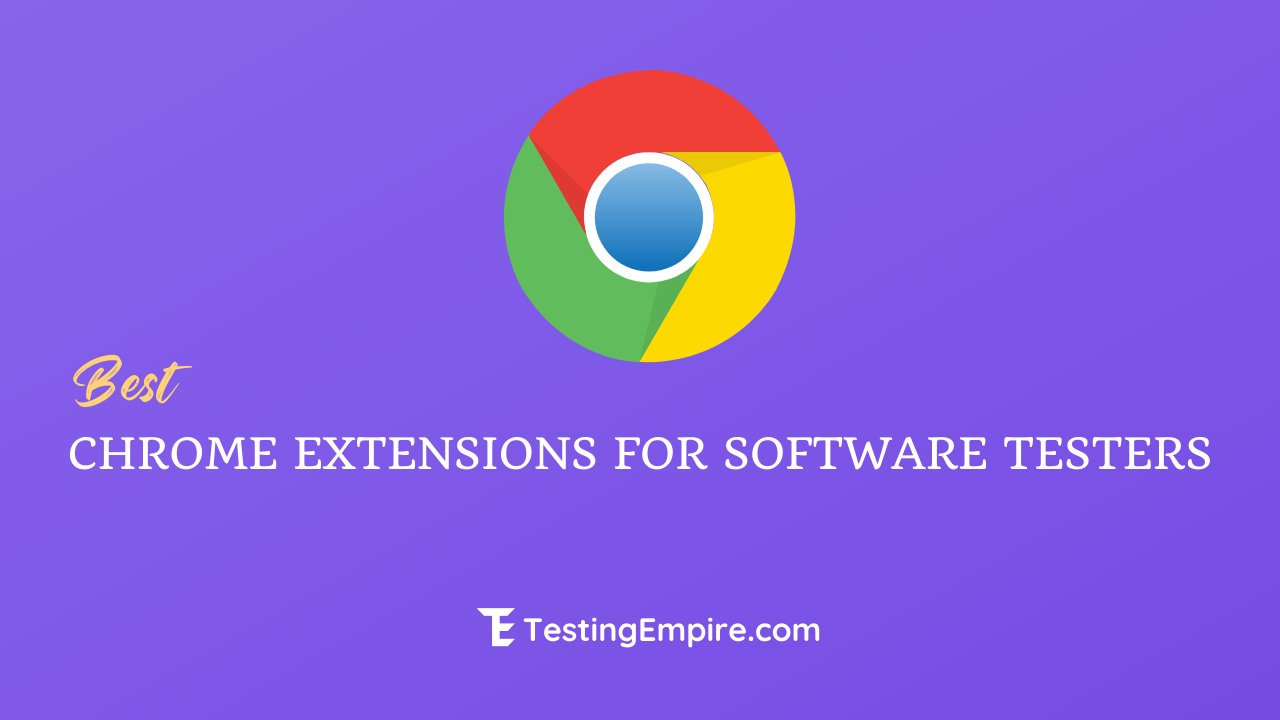 Your website functionality is necessary as it aesthetics. If your site is not working properly, you will lose potential clients. But lots of business website owners have failed to notice. You might have probably encountered some issues yourself when browsing websites like links are not working, pages that look funny in certain browsers, images not showing, or forms that don't work. That's you should test your website and apps.
For testing websites and web applications, adding plugins like Chrome extensions can speed up the manual testing process.
When testing on a PC, there are different browser options to choose from, such as Chrome, Safari, Firefox, and so on. It is very beneficial to test on all of these browsers.
Testing on Google Chrome, though, has the advantage of multiple extensions software testers can use to make web testing more efficient and accurate.
In this post, we will review the 5 best chrome extensions for Software QAs
List of Best Chrome Extensions for Software QAs
Here, we have some of the best chrome extensions for software testers that will enhance your testing process.
#1. SelectorsHub 
SelectorsHub is the free-of-cost Next Gen xPath & cssSelectors browser plugin. With this tool, you can generate, write and verify xpath & cssSelector. SelectorsHub auto feature suggests all possible functions, attributes, text, and so on while typing to complete Selectors such as xpath & cssSelector in less than 5 seconds.
You do not need not to copy and paste attribute values from DOM to build XPath and cssSelector anymore. It supports axes such as siblings, parents, childNodes, ancestors, and descendants, and so on. This plugin also supports shadowDOM, nested shadow DOM, iframe, nested iframes, dynamic dropdown, SVG elements, submenu, and dynamic invisible elements.
#2. LambdaTest Screenshots 
The LambdaTest Screenshots is another great Chrome Extension that can be used to take full-page screenshots of web pages across different mobile browsers and PC right from your browser with just one click on 25 different browsers and OS configurations. These screenshots will aid in fast-tracking cross-browser compatibility testing of your web pages.
It captures screenshots on 2000+ real browsers running on real operating systems (OS) on cloud-based real machines. It ensures a pixel-perfect digital experience across all latest and old versions of Chrome, Firefox, Opera, Internet Explorer, and Edge browser. For mobile browsers, LamdaTest uses emulators and simulators to take a full-page mobile screenshot.
#3. IE Tab
While many people have moved on from using Internet Explorer or IE, a surprising number still utilize this old-school browser. It gets around 3% of the market share, which is more Firefox. Even if you don't use the IE browser, you need to stay on top of how your website works on it.
For this, you don't have to go back and download IE; the IE Tab extension will take care of it for you. Developers can run IE entirely on Chrome and see precisely how the website looks and works on this legacy browser. With its ActiveX controls, you can test your site's pages with different versions of IE like IE6, IE7, IE8, or IE9.
#4. Bug Magnet
When you're testing forms on your website, there are a lot of different bugs or errors to consider. Remembering them all is quite challenging, and manually testing out each can be time-consuming. Bug Magnet makes these tasks easier. Once it's installed, all you have to do is right-click on the form field of any website, and it will provide a full menu of options with things to test, like various alphabets, names of varying lengths, or email formats.
This will automatically fill in the field based on what you choose, so you can quickly go through all necessary website QA tests. Find out if your field has stopped accepting numbers over a certain length or if it fails to recognize an invalid email address accurately. It doesn't automate the testing process entirely, but it's a handy plugin to speed up testing and keep you from forgetting any necessary tests to run.
#5. Window Resizer
Testing your website on just your computer or device is a big mistake that many website owners make. But the people who visit your website will be viewing your website from an array of devices with different screen sizes.
Window Resizer is a plugin by which developers can easily test how their website looks in different window sizes. The plugin comes with some preset testing options and includes standard sizes for desktop and mobile devices. But you can also add additional custom sizes to test out. You can set window's width & height, position, preset icon (smartphone, tablet, laptop, desktop), and even apply the new dimensions to the entire window or viewport.
#6. Screencastify – Screen Video Recorder
Millions of people around the globe use Screencastify to record, edit, and share videos in just a few seconds. You can record unlimited screen recordings for up to 5 minutes with no watermark. You can also trim your videos and export them even though for free.
It offers a blazing fast, browser-based editor that empowers anyone to easily create powerful and professional videos. All videos are saved in Google Drive automatically for easy and secure access. You can share videos on YouTube and more in seconds.
Conclusion
Your website visitors aren't going to go out of their way to inform you about the problem they have with your website. More often than not, they'll click away and go somewhere else. Therefore, web testing is important. With these tools, you can easily simply the manual web testing process.
Research Process
Total tools reviewed: 12
Total tools finalized: 6
Total time spent: 24 hrs
Related posts: