There is no doubt that the XRay tool has become a staple in the software development process. However, there are many other options available, and it can be difficult to decide which one is right for you. In this blog post, we will take a look at some of the best XRay alternatives and competitors for 2023. We will also discuss the benefits of each tool.
So, if you are looking for a new software test management tool, read on!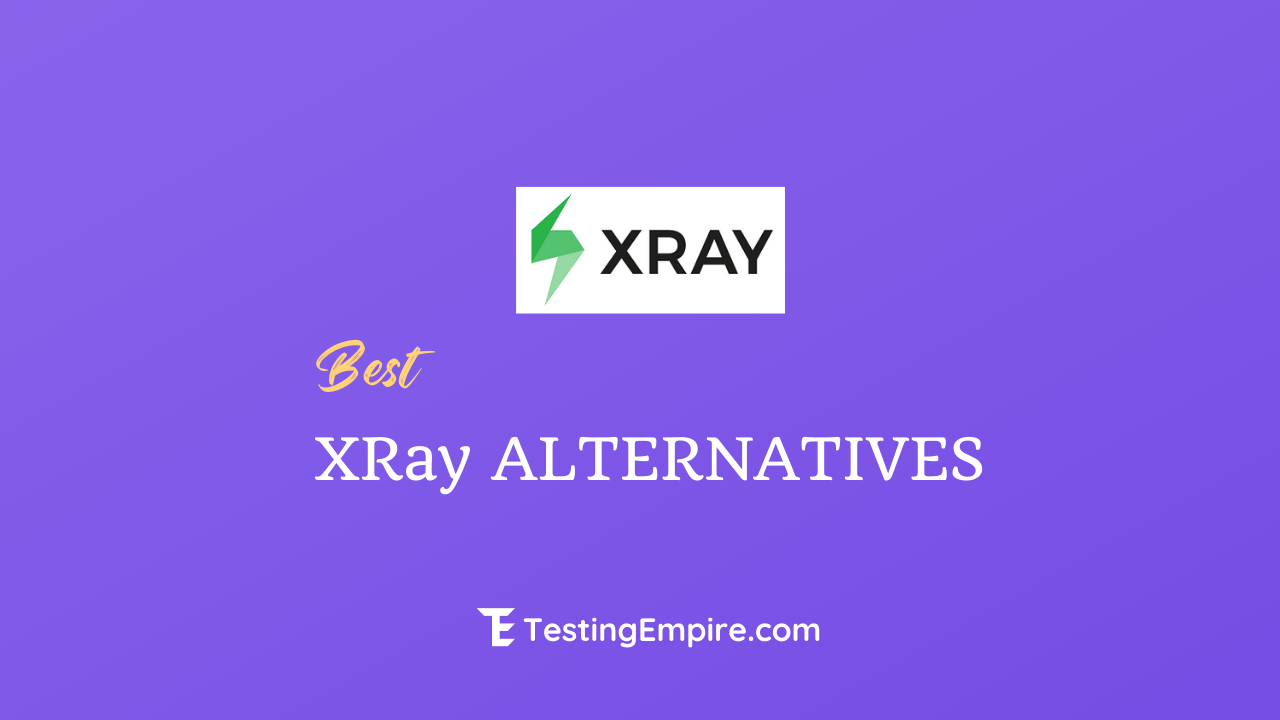 About XRay
XRay is a popular Jira add-on for test management. It allows us to utilise all features of Jira, coordinate its features within the same project or many other projects. It is a test management tool that provides the structure to organise, plan and report our test execution while also letting us know about the readiness to deploy.
XRay tool seamlessly integrates with several automation tools and DevOps using APIs, it enables us to test according to the assumptions of Behaviour Driven Development. It supports leading automation frameworks such as JUnit, NUnit, Robot and other tools; With Built-in REST API, it is easy to use Continuous Integration tools such as Cucumber and Jenkins.
XRay tool helps us with our entire test lifecycle including test planning, preparation, specification, both flat or hierarchical test organisation, implementation and monitoring. It can enhance the agile boards by tracking the real-time status of the requirement and execution progress.
Pros
Xray integrations with CI/CD tools such as Bamboo and Jenkins.
For each issue type, there are custom fields.
Issues can be assigned to users and additionally, watchers can be added.
It has traceability between requirements, tests, execution and defects.
It allows us to write test scenarios in BDD in Jira.
It provides advanced coverage analysis
It is a budget-friendly test management tool.
Cons
It can't detect and prevent duplicate bugs.
It doesn't have slack integration.
The work is limited inside Jira.
It doesn't have any feature to manage requirements and user stories.
We can't report issues directly from emails
It doesn't have an external dashboard
Verdict:
Xray is budget-friendly and comes with a bunch of good features including BDD testing, integration with automation and DevOps tools etc. XRay's primary feature is it's a Jira add-on, testing happens inside Jira, but the work is limited inside JIRA. Xray being a part of JIRA and working with JIRA sounds promising but it can't manage the requirements, user stories or have any flexibility. It can't scale up when the company grows. It doesn't provide us proper visibility on what needs to be done to make the right business decision.
List of Best XRay Alternatives
XRay test management tool gives us great features to manage our test cycle but it has its limitations. Now let's look at some best alternatives for XRay.
#1. PractiTest

PractiTest is a SaaS-based test management tool that covers all the aspects of the application's testing lifecycle. It's an end to end solution that manages the test from the requirements stage to test execution and reporting.
It has features for reusing the test cases that eliminate the need for duplicate tests. It organises the test in hierarchical filters which reduces the testing time and effort by increasing the efficiency.
It integrates with defect management tools such as JIRA, Pivotal Tracker, Bugzilla. It is compatible with automation tools including Selenium, Jenkins and PractiTest API allows us to customise the tool based on our needs
Key features:
PractiTest can integrate with various third party applications including issue trackers, automation tools and robust API
It enables us to reuse the test for various releases and products.
It helps us avoid rework as it has anti-bug duplicates, step parameters and call to test.
It provides data visualization through Dashboard and reports.
It is fully customisable and flexible.
#2. ReQtest

ReQtest is a requirement management system that can help us organise our test management and bug tracking system. It can help us deal with the hindrance we might face during testing with ease and efficiency. It is usually used for Agile projects and it integrates with JIRA.
We get real-time updates on different processes that happen during testing. It enables us to collaborate with both the testing team and development team for planning, executing, reporting, fixing and reviewing activities.
Some of the main features in ReQtest test management tools are agile board, defect tracking module, requirements management module, test management module it also helps us in hosting and can provide support via phone, chat, and email.
Key features:
It is an integrated test suite that can help us in test planning, execution and follow up with test cases.
We can report a bug instantly using ReQtest
It has both a pre-filled and customised form that helps us with the test case creating process.
It increases our productivity by giving us insights into our progress in a dashboard.
In ReQtest, we have the feature to link test cases to the requirements.
It has built-in charts which can help us in reporting
#3. QTest

QTest is an Agile dev testing platform designed for the DevOps team to collaborate. QTest is an-sprint test management that helps us to perform open-source testing, exploratory testing and Behaviour driven development. Qtest streamlines releases, issues and defects by integrating with JIRA, it also allows us to access and analyse Cucumber test scenarios results.
Qtest has six modules: Qtest Manager- management activities, Qtest Insights- real-time metrics in testing efforts, Qtest launch- manages open-source framework, Qtest explorer- records test execution, Qtest Scenarios – assist in scenario development and Qtest Pulse- manages the agile process.
Key Features:
It is an easy to use test management tool optimised for Agile teams.
With help of Qtest we can standardise the testing project and meet our delivery deadlines faster.
In Qtest Manager, the user interface is designed in such a way that we can quickly plan and execute test cases; it has no restriction on how these runs need to be structured.
Qtest is built to scale as our organisation grows, it has great features, flexible reports and admin tools that will assist our journey.
We can streamline operations and connect testing with development as it updates two way at defect level and requirement level
#4. TestLodge

TestLodge is an online test management tool that focuses on creating test plans, test suites and test cases along with the requirements. It allows us to perform multiple test runs and generate reports easily. When compared with traditional test management tools, TestLodge is designed with simplicity.
When a test case fails in TestLodge, a ticket is automatically generated as it is integrated with most of the leading issue tracking tools. This saves our effort to create a bug report manually.
Key Features
TestLodge assists the team to manage test plans, requirements, test cases and test runs.
We can instantly examine the status and progress of our testing using activity feeds, dashboards, graphs and reports.
It can export and import test cases and also provide custom reports.
It's highly integrated with a bug tracking tool, if a test case fails, it automatically creates a ticket in the bug tracking tool.
#5. QACoverage

QACoverage is a test management software that supports advanced workflow management in the testing lifecycle. It can increase productivity and provide visibility to manage the testing team through comprehensive Requirements Management, Test Designing, Test Execution, Defects Management, Metrics & Reporting.
Using static testing phases we can manage automated test scripts and change request management. It collaborates with the team to measure the test effort and progress of the business. It seamlessly integrates with JIRA. It assists us to design test cases depending on test types, priority, categorization of test cases review controls.
Key Features
QA coverage helps us to define, monitor and control the test coverage of our requirements.
It has the feature to import and export use cases, business requirements, functional specifications and other project-related artifacts.
QA coverage has a simple and easy to access centralised, web-based test case repository.
We can establish complete traceability between requirements, test cases and defects.
We have the option to upload test cases from Excel sheets.
QA coverage provides us features to group and organise test cases based on test type, we can group them in different folder structures.
#6. QMetry

QMetry is a robust test management tool test management software that helps us to deliver high-quality products faster. It has the test management capabilities to scale from manual test to agile methodology, even DevOps is possible with QMetry.
QMetry can connect with various tools such as JIRA, authenticators such as LDAP and SAML and other standard testing tools. It provides us with version control functionality, which would record all modifications including additions, deletions which can provide us with a historic perspective of our test efforts.
Key Features
QMetry can assist us in the test management process from end to end.
It also helps us to manage our requirements,
It is effective in generating quality metrics and helps in test automation as well.
It supports exploratory testing which in turn saves us a lot of time and effort.
It has the version control feature, so we can run multiple releases and cycles parallelly.
It enables parallel test execution to avoid defect leakage.
Conclusion
The X-ray tool might be a part of JIRA, that doesn't make it the best test management tool. It doesn't provide us with the flexibility and insights to dive deep into testing. There are tons of alternative software in the market with better features and friendly pricing. Hope this article gives you an insight into some alternative test management tools for X-Ray. We highly recommend you weigh the pros and cons of each application before taking a decision.
Research Process
Total tools reviewed: 12
Total tools finalized: 6
Total time spent: 48 hrs
Related posts: